****

*
Until a recent excursion to Washington D.C., I had never heard of
Terry Gilliam
, nor had I heard of his 2006 (2005 UK) fantasy film entitled
Tideland
. I bought it, judging the movie by its cover and cast list - which I've heard is a bad thing to do - and hoping that I would not be disappointed by the $27 DVD. After watching the 121 minute movie, I can honestly say that I am not disappointed, but more intrigued, impressed, and mostly satisfied with my purchase.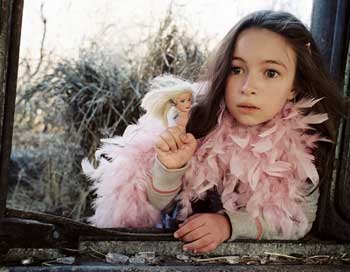 In a world where fireflies are fairies who have names, plastic doll heads speak in varied dialects atop fingertips and squirrels talk, ten-year-old
Jeliza
-Rose (
Jodelle
Ferland
-
Silent Hill,
Kingdom Hospital
) escapes the reality of her drug-addicted father and the death of her mother. She finds companionship in the mentally damaged Dickens, played by
Brendan Fletcher
, and fear in Dickens' older sister, Dell, played by
Janet

McTeer
, all the while trying to find herself in a world that could never accept her upbringing.
Even though she is just a child,
Jeliza
-Rose is forced to act much like an adult. Her two addicted parents make it clear that they cannot take care of themselves, so
Jeliza
-Rose is put in a situation where she has to take care of them. While her mother - played by
Jennifer Tilly
- mainly asks
Jeliza
to massage her legs, her father - played by
Jeff Bridges
- goes as far as to teach
Jeliza
how to prepare his
meth
and heroin injections, to the point where
Jeliza
arranges his syringe daily, catching his cigarette hand after each fix to make sure he doesn't light the house on fire. When her mother dies,
Jeliza
-Rose and her father run away to her grandmother's abandoned house in a place called Jutland. The first day there,
Jeliza
prepares an injection for her father to go on another "vacation," one from which he may not return. Dell and Dickens become
Jeliza's
temporary family, but their warped view on life only confuses the girl more, forcing her deeper into "the rabbit hole."
There is so much more to this movie, but to explain further would give a lot away - more than I already have! If you have seen and enjoy movies such as
Pan's Labyrinth
and
Big Fish
, there is a good chance you would enjoy the creativity presented in
Tideland
. The movie will offend and bother many people because it brings to light issues involving children, maturity, addiction and sexuality, but one need remember that it is a fictional movie; an imaginative story; a thought-provoking piece of art, and not something that should be taken so seriously.